Our Story
Classic, contemporary, minimalist, avant-garde. Whatever your taste, you will discover a tremendous choice of furniture at our Dansk Rayleigh Store.

Dansk is renowned for being at the forefront of the furniture industry since 1979, constantly searching for inspirational new ideas and designs, offering superb value throughout the range. We're proud that we keep our prices competitive but we never compromise on quality or service.

Enjoy creating your ideal home with help and expert advice from our knowledgeable sales consultants, in a calming and peaceful showroom atmosphere where you'll find a fantastic selection to choose from.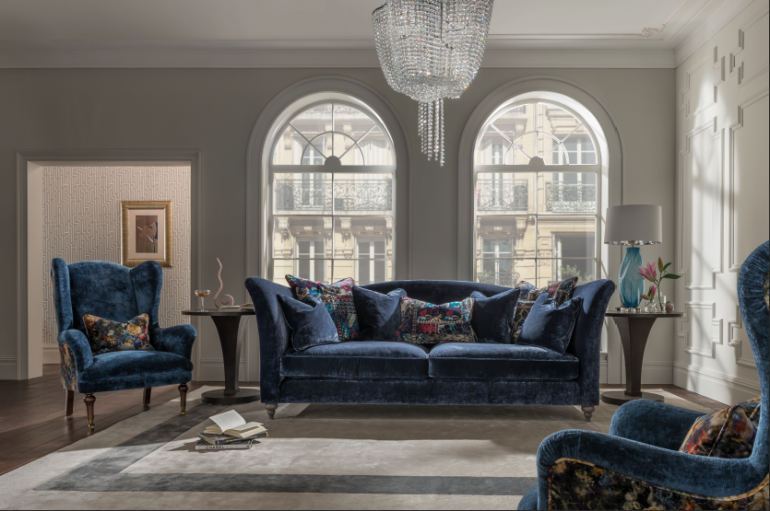 ---
Dansk Design 1979 – 2019
Dennis Cox, founder of Dansk, looks back on 40 years of inspirational home design
Bringing the Scandinavian lifestyle, with its promise of clean lines, beautiful woods, neutral palette and minimalist styling, to a shopping centre in 1970s Southend was a stroke of genius…. Or, as Dennis would say, "A bit of a risk, but it was time for a change".
A change not only in his career, but a revolution in home design that gave birth to a brand that's lasted four decades and continues to thrive as a showcase of the best in international furniture and accessories.
Life before Dansk had already marked Dennis out as someone unafraid to embrace challenges. Brought up in the pub and restaurant business, he had his own pub by the age of twenty one which was the perfect training ground for understanding customers:
"I was never happy with just keeping the status quo. I wanted to make the pub a real destination that delivered a great experience to everyone – new ideas, energy and unrivalled customer service. I loved it and people kept coming back, so I knew it was working".
The success of his first business sent Dennis in a new direction, literally. "I decided to move to Denmark! The pub business was pretty exhausting and I'd heard Denmark was a relaxed and cool place to live. I stayed there for a few months, then realised I had a big opportunity – to transport a slice of Scandinavia back to Britain".
"I was surrounded by all this fantastic design in Denmark, whereas in the UK, the local furniture stores were still full of things that your parents and your grandparents bought. Traditional, boring… nothing modern or fun, unless you went to the trendy London stores."
Dennis decided the timing was right for his new furniture aesthetic: "It was about looking confident and sleek, something that younger generations would fall in love with, rather than style that was handed down".
Dansk opened its doors in November 1979 in a 2,000 square foot space in Victoria Circus shopping centre; on its first day the store took £2,000.
Within five years, Dennis expanded and opened a 10,000 square foot unit in the same shopping centre as well a store in Basildon. In the 1980s he finally settled on Rayleigh as the ideal location for a central showroom and a warehouse facility to service deliveries across the south-east.
Working with the best in the world
Since the early days, Dansk's success has been driven by Dennis' unerring knack of cherry picking the best furniture designers and manufacturers to work with.
"In the 1980s, I began travelling extensively to Paris, Cologne and Copenhagen to find new collections that matched Scandinavian quality, even if the look and style were different. It seemed each country had a particular design speciality, so I brought back high-quality German bedrooms, French dining and some fantastic Italian leather ranges to the store."
Today, Dansk showcases the best and brightest collections not only from Europe, but internationally. "All our new partners must meet the Dansk quality and innovation standard, so the buying team spends a lot of time visiting the world's most prestigious fairs, such as High Point in North Carolina. We've also been championing some great British brands, particularly in upholstery, where there's real heritage in terms of well-constructed, comfortable ranges".
One of Dennis' favourite additions to the store has been Home Accents. Predominantly Scandinavian in aesthetic, this treasure trove of homeware has become a must-see/must-have destination for style-hunters: "I think what people love is that they don't see the collections everywhere else. They're excited that they can come and find beautiful throws, lights, pictures, mirrors, glasses and so on that other people won't have."
Moving forwards
Since it opened two years, the in-store Dansk Cafe has become a hugely popular destination in its own right, thanks to locally-sourced, freshly-cooked food and delicious coffee and cakes.
Building on its success, Dennis is about to unveil a new bar and lounge called Frederick's: "The idea is to extend the cafe's relaxed, comfortable atmosphere and excellent food into a bigger space; we've really paid attention to the design and decoration, it's beautiful, stylish and friendly, with a great bar, space for a DJ and fabulous sofas". Available for private parties, Christmas parties and corporate events Fredericks Lounge & Dining is now available for hire!
Dennis' eldest son, Lee Cox, now works alongside Dennis as Managing Director and his middle son, Nicky, has been instrumental in setting up Dansk Cafe. "It's been wonderful working with my sons to keep moving the brand forward. In fact, everyone who works at Dansk tends to stay a long time, so there's a real family feel; we all share the same enthusiasm for keeping the business fresh, whether it's the growth of our online service, or the new restaurant".
"Dansk is a huge part of what I am. I love being in the store every day so I can see what customers want, then go out with the buying team to deliver above and beyond their expectations".
---
Dennis' next big thing in home design:
Club collections… furniture that's indulgent, generous and high on comfort
Industrial styling… recycled, reclaimed and re-imagined for the home
Natural… environmentally-sourced woods for a softer, organic mood
---