Raffles Three Drawer Bedside Chest
Reclaimed and recycled wood.
Sundried wheat finish.
Pull out coffee slider.

Specification Sheet

In stock (approximately 10 days for delivery)
Product Details
Raffles Bedside Chest is crafted from reclaimed and recycled wood in a warm, silky, sundried wheat finish. The subtle scratches, cracks and colour variation makes each piece one of a kind. The overall finish is created by hand polishing and brushing each piece with high quality environmentally friendly oils to create & enhance a genuine aged patina. Metal handles provide the finishing touch for this very distinctive bedroom collection.
The Raffles Collection is part of the Trees 4 Trees project. The project empowers local communities through partnership reforestation initiatives. By increasing the area of community planted and owned forests, livelihood assets are created, the negative effects of deforestation are reduced and renewed.
People who bought this also bought...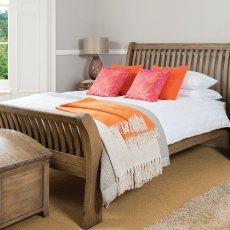 Related items in this collection...