Product Details
Beautiful Regency Hurricanes, with their lattice detailing, radiates a cosy glow around any modern or traditional living space.
Medium Dimensions: W14cm Dia. x H16cm - Recommended Church Candle: 130 x 70 mm
Please ensure you ONLY use the recommended candle size for this hurricane lantern, shown above, and only one candle per hurricane lantern.
Product Information
Caring for Your Regency Lattice Hurricane
Cast Aluminium Items
What is Aluminium?
Aluminium on its own is soft and lacks strength but the addition of alloys and other elements gives it the very useful properties necessary for making it suitable for tableware.
Caring For Your Aluminium Items
The composition makes this item suitable as a serving platter or charger but unlike stainless steel it is not food safe and will stain if left in direct contact with food for long periods of time especially acids and alkaline. To clean wipe with a slightly damp cloth and dry immediately.
Hurricane Lantern Care and Use
To care for your lantern and keep it looking fabulous, ensure the lantern is cold and wipe with a damp, soft cloth. Ensure nothing abrasive is used on the metal or glass surface of the lantern. Dry thoroughly after cleaning.
You may also like...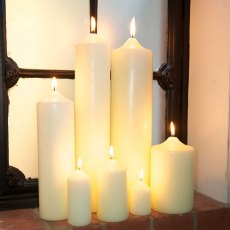 People who bought this also bought...