Stag Heads Glass Hurricane Lantern

Available (approximately 3 weeks for delivery)
Product Details
Stag Heads Glass Hurricane Lantern in Nickel Plated Aluminium.
Inspired by this magnificent creature's stature and beauty, this will make a stunning addition to any home. The Stag Head Hurricane Lanturn adds the warm glow and atmosphere of candlelight to your surroundings with our beautiful stag hurricane lantern. Adorned by two stags with spectacular antlers decorating either side.
Recommended Church Candle - 130 x 70 mm
Please ensure you ONLY use the recommended candle size for this lantern, shown above and only one candle per lantern.
Product Information
Caring for Your Stag Heads Glass Hurricane Lantern
What is Nickel Plate?
This is a method whereby a base metal such as brass is coated in nickel usually by the process of electrolysis.
Caring For Your Nickel Plated Items
Nickel plated items should be cleaned using warm, soapy water and a soft cloth. Then rinsed thoroughly with clean water. The item should then be dried immediately with another dry, soft cloth. If the items requires further cleaning a soft cloth and metal cleaner such as Maas Metal Polishing Creme or a Cape Cod Metal Polishing Cloth can be used. These can be purchased in various online and high street shops.
You may also like...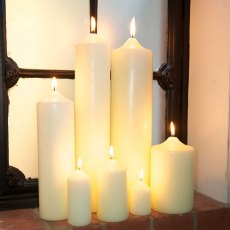 People who bought this also bought...
---
---
Related items in this collection...